Wageningen (NL), 8 December 2014
Time for a change. Words which we here more than once. Obama used a couple of years ago " Yes, we can." He indicated changes to come. Reality made it more difficult than expected and at least hoped for. Words in itself usually don't work unless we do anything.
Yet it remains time for a change. Within Oikosnet Europe we have worked on it quite hard this year. New relations have been developed with special attention to our members in Central and Eastern Europe. Although not neglecting other parts, our members in this part of the continent face challenging times, where geo-politics influence their work heavily. What will be their future? What are the effects of the cold period in politics as they appear now?
Uncertainty about politics also influence the lives of ur friends in the Middle East. Quite some of them suffer from the paralysed situation between super powers, influenced by raw materials, oil and markets. It is told: statistics show that there are less wars in the last 50 years than ever before. Statistics regarding Millennium Development Goals show that quite some diseases have been reduced in their outreach. Yet, Ebola changes the picture dramatically in some countries in Africa in a negative sense.
And yet, also here statistics are produced after the facts, after things have happened. That's why it remains so important to be pro-active, to read the signs of the time, to invite people with opposing views, to discuss issues where people disagree or still do not know. It is clear that our members don't bring heaven on earth. We are too much down to earth ourselves to get that aim realised. It is however also clear that we can contribute to processes in society which contribute to that aim.
That is what we remember when living in the time of Advent since we are taught about the long term perspectives of justice and peace. That is what we look forward to in the next year! And we are longing for it, also in our day to day work.
Have a bless Christmas time and a Happy New Year.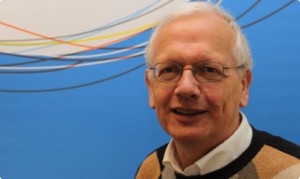 Jaap van der Sar
President Oikosnet Europe