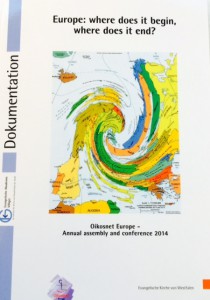 "Europe: where does it begin, where does it end?" – Under this title, Oikosnet Europe (OE) together with the Evangelische Akademie Villigst published the presentations of its Annual Conference 2014. The 200-pages booklet, however, offers much more than just the reflections on Europe of Oikosnet members and invited guest speakers. It also offers an introduction to Oikosnet Europe and its members. I contains basic texts of OE as well as portraits of many of its members.
Whoever wants to get informed about the present state of affairs within Oikosnet and wants to participate in parts of the debate might consult the Oikosnet website or this booklet. The booklet might also be a valuable resource for those who consider to become members or just want to stay in touch.
Copies can be obtained from the Oikosnet Secretariat or the Evangelische Akademie Villigst at a rather low price.
Please mail to office@oikosnet.eu with your request.