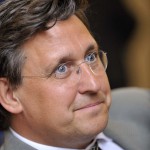 By Rüdiger Noll
About 40 people from various arab and european countries as well as several guests and speakers participated in the 4th consultation of the Citizens´ Dialogue, which took place in Brussels 16 to 20 November 2014.
As the 3rd dialogue meeting in Cairo earlier this year heavily criticized the "More for More, Less for Less" – Policy (meaning: more aid and support in return for more democracy, the implementation of human rights and the rule of law in Arab countries as well as of other "European" values) of the European Union, the 4th dialogue meeting was deliberately hosted in Brussels in order to discuss with representatives of the European Union Institutions and with Brussels-based NGOs. Elmar Brok, Chairperson of the European Parliament´s External Relations Committee, defended the More for More and Less for Less Policy, which led to a discussion about the contextualization of commonly held values and a patronizing attitude of the European Institutions.
The Dialogue Meeting also met with officials from the EU Directorate for Foreign Aid (Neighbourhood Policy) and NGOs which are engaged in contributing to a European foreign and development policy. "This meeting came at the rights time," officials said, "as the EU is in the process of re-defining its neighbourhood policy." Participants were encouraged to make their voice heard in this process.
Altogether, however, the European Institutions showed themselves much less receptive to the invitation of the citizens´ dialogue than hoped. That might also be due to the fact that the new European Commission took office just prior to the dialogue meeting and many civil servants found themselves in the process of changing offices and responsibilities.
The more time Arab and European participants had to discuss among themselves. Quite some "elephants in the room", big issues which require further investment and mutual understanding were identified. These issues include: How to deal with the Israel-Palestine conflict? How to deal with radical (terrorist) groups that use violence in the name of religion? How to define European support for the Arab region versus intervention? How to dialogue on an equal footing?
At the edge of the meeting, the organisers also caucused about the future organization of the Dialogue. Three European Academies (members of Oikosnet) together with the Oikosnet Executive Secretary are testing the possibility of taking the lead in the process from the European side. Equally, CEOSS, the anchor organization from the Arab side is exploring a broader leadership from their side. The next step will be a joint workshop with all potential anchor organisations in spring 2015, in which further steps in the process will be planned.