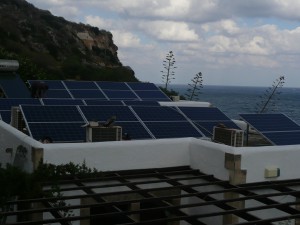 The Orthodox Academy of Crete (OAC), is continuing the work of its Founders as well as underlining the manifold actions of HAH, the Ecumenical Patriarch Bartholomaios I, for the ecumenical protection of nature as an indication of the respect towards the Divine Creation and human beings as image of God, installed photovoltaic (PV) panels of 8kW with the kind and substantial support of OIKOSnet.
The aim of this endeavour is to protect the natural environment and prove also that the production of the building's necessary energy can be reached by taking advantage of sustainable technologies, stressing the respect for the natural resources. It is the first important step for the OAC to significant reduce its carbon dioxide emissions and become eventually a net zero energy facility, as a good practice example for the local society and a paradigm for achieving an environmental friendly future.
The official announcement the OAC's PV project was made at the Scientific Conference organized by OAC's Institute of Theology and Ecology on November 14th and 15th concerning energy autonomous islands and communities, which use up to 100% renewable energy sources (RES) with distinguished speakers from all over Europe.
Both the PV development and the RES Conference are scheduled in order to convince with real life examples the community of Crete and Greece in general that the production of energy should be done with respect to the future generations and to strengthen the idea that more citizens should get involved in this vision.
This is the reason why OAC is also making methodical efforts to establish the first Co-operative energy association of Crete. This initiative of the OAC is an invitation to all the citizens of Crete as well as all the faithful of the Church of Crete, to embrace the key point of Crete as a place well supplied with energy, for the RES constitute the chance for a collective development of Crete, for the common interest of all the people, as OAC's duty for the next generations.