The Orthodox Academy of Crete will have a busy time this spring preparing for the historical meeting in June when The Holy and Great Synod of the Orthodox Church will take place. The last time a Pan -Orthodox council of this scale was convened was in Constantinopel well over a thousand years ago in 879 – 880, where they had a representation of over 380 bishops from the Eastern Christian Churches.
Moved from Istanbul to Crete
The heads of the church decided at a meeting in Geneva in January to relocate this synod from Istanbul, which is the headquarters of the Ecumenical Patriarche of Constantinople,  to Crete due to the geopolitical circumstances. Those who are expected to attend to Crete the 16th of June – 27th are the heads of representatives of 14 autocephalous churches of Constantinople, Alexandria, Antioch, Jerusalem, Georgia, Cyprus, Bulgarie, Serbia, Russia, Greece, Poland, Romania, Albania, Czech and Slovakia.
A great honour and a great responsibility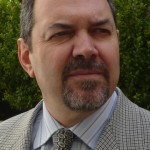 Konstantinos Zormpas, director of the Orthodox Academy of Crete sees the event as great responsibility, and at the same time a great honor for the Academy. All Primates of the Orthodox Churches will meet, together with their Delegations, including Metropolitans and advisors. Journalists from all over the world are also expected to be there and inform about the developments of the deliberations.
What effects do  this Synod expect to have related to Oikosnet?
–  To start with our Academy, the upcoming Synod is already affecting our work and the discussions we have with participants at our activities. The more so, it will have effects on our work in the future, especially regarding the conferences and seminars related to theological or religious questions. All issues that are going to be discussed during the Synod are important to the orthodox world and locals as well as people attending courses will be interested to hear about the outcome. The same, participants at seminars about Orthodoxy, mostly non-orthodox themselves and coming from different countries, will want our Academy to include the latest developments in the lectures, especially regarding those issues that affect them, too, says Konstantinos Zorbas, director of the Orthodox Academy of Crete.
The items officially approved for referral to and adoption by the Holy and Great Council are:
The Mission of the Orthodox Church in the Contemporary World,
The Orthodox Diaspora,
Autonomy and its Manner of Proclamation,
The Sacrament of Marriage and its Impediments,
The Significance of Fasting and its Application Today,
Relations of the Orthodox Church with the Rest of the Christian World.